With 2015 around the corner it is time for us to tone our bodies. Focus our minds. Live the life of our dreams with Moticise. The thing about coaches is that they help to motivate you. A fitness coach will help you to get physically fit and a life coach guides you towards your next achievement. What if you could have the best of both worlds. This is exactly what Sonia Santra is helping you work towards with her new workout routine and DVD called Moticise. At times when we are working out our mind is not focused. I know that when I am exercising my mind is thinking about all the things I have to do at work and home. Moticise sets out to make the best of those times and guides you toward self-motivation on a workout, spiritual and lifestyle level.
I had the opportunity to attend an exclusive and intimate workout event for Moticise hosted by creator Sonia Santra. This was really exciting because no one workout has ever helped to clear my mind. This idea had me very curious and wanting to learn more.
Sonia is an award-winning motivational speaker, life coach, triathlete, marathoner, and founder of the NYC-based Women's Empowerment Adventures. She also is an accomplished actress who starred in the soap operas "Guiding Light" and "One Life to Live".
She credits all of her accomplishments with the fact that she saw herself in those roles and she is hoping to empower people to reach and achieve their goals too with the fun, energetic, and confidence building Moticise workout. There was a positive and energy in the room with her and the women present that it put you in good spirits right away and ready to move. Sonia took us through the workout which starts simply as envisioning where you want to be as we warmed our bodies up and worked up to picking specific goals as the cardio routine increased. I got a chance to speak with Sonia and ask her some questions that I thought would help us to kick off our 2015 in style.
Q: If you only had 10 minutes to exercise what would you do?
10 minutes can still be valuable….especially of Moticise because it incorporates both the mind and the body. I would recommend: 1 minute each:
•Light jog - warm up - take a moment to think about one thing that you would really like to accomplish…make it specific and measurable
•Climbing the ladder - imagine yourself accomplishing that goal, really see the details of doing it, feel the joy and pride of doing what it takes to make it happen
•Lunges - for each set (left and right lunge) come up with one action step you could take to accomplish this goal
•Squat jumps - as you jump up and grab- pull in things you already have in place that will help you accomplish this goal - perhaps its a contact or a skill or a creative idea, desire, the decision to make it happen….it all counts.
•Speed skater- as you jump or step side to side, reach down to the floor with the opposite hand and reach for something that you may still need in order to accomplish this goal - for example, more information, getting help, scheduling tasks in your calendar, clearing out your cabinets of all junk food - depends on the goal
•Push ups - what's stopping you, what obstacles maybe causing resistance- push past them
•Burpees - sometimes you "fall" or stumble that's okay - get up - train your body and your mind to get up faster
•Gratitude squats - with each squat, think of something you are truly grateful for - see it, feel it and send that grateful energy out into the universe.
Core 1 minute crunches with affirmations - I can do it, I am strong, I will not be stopped, I have focus, Yes I can….or make up ones that are meaningful to you and preferably say them out loud with each sit up….you'll be amazed at how much easier they will be.
1 minute plank - reflect on your inner strength, your commitment to accomplishing this one goal, what is one positive thing that may happen as a result of accomplishing it- how will it make your life better, happier, more fulfilling Ideally take one more minute to sit peacefully. Then take your amazing yourself out in the world and SHINE!!!
Q: What should woman look to strengthen in their body as they get older
In terms of exercise as you age, I would recommend some overall strength training - keeps your muscles strong and reduces bone loss. I would also recommend stretching - we can often lose our flexibility both in mind and body as we age so it is a great thing to do daily. Be mindful as you stretch - ask yourself, how can I continue to stretch myself in my life or what would I like to stretch deeper into?? Ask your body for permission to relax and go deeper into a stretch.
Free Welcome Kit
While you wait for your DVD or want to get a peak at what Monticise is all about sign up today at
http://www.moticise.com/
Disclaimer: I was lucky enough to get a copy of her first Moticise "Mindset Reset" DVD in my gift bag; however all opinions expressed her are my own.
Meet the Guest Blogger!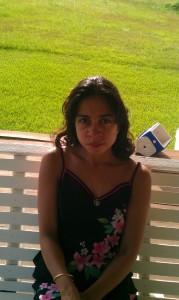 Denise Seegobin is a blogger, social media influencer and New Jersey resident, is the founder of savingswithdenise.com. Before that she lived in New York and currently works there. Her lifestyle and eye for savings helps busy women stay on top of the latest trends in fashion, food, family, and life in general.